Friday is St. Patrick's Day, and everyone is looking for ways to get their green fix – green beer, green baked goods, and various other green foods will be abundant at the grocery stores this week.
So, why do we associate St. Patrick's Day with the color green anyways? It's not a clear and cut answer, but some say it comes from Ireland's nickname, "The Emerald Isle," from the green on the left side of the Irish flag, or from St. Patrick's use of the clover in his teachings.
Luckily we can celebrate the holiday sans artificial colors thanks to some beautiful naturally green ingredients. Spinach, matcha, zucchini, and more, these healthier recipes will leave you full and satisfied this St. Patty's Day.
Zucchini Noodles with Mini Chicken, Feta, and Spinach Meatballs from How Sweet It Is

If you're looking for some ways to sneak some greenage into your dinner, this is the way to do it! Not only that, it's full of protein thanks to those cute little mini chicken meatballs.
Super Green Smoothie with Green Tea from Jessica Gavin

Start your day with some greens! That spectacular green color comes, not only from tender greens like spinach and baby kale, but from matcha green tea powder as well. Super healthy breakfast choice right here.
Skinny Broccoli, Cheddar, and Turkey Quiche from Amy's Healthy Baking

If you're an eggs for breakfast person, look no further. Add some green veggie goodness to your egg-filled breakfast with some broccoli! Ingredients like cheddar and ground turkey make this quiche extra yummy.
Paleo Flourless Fudgy Brownies with Mint Matcha Frosting from Fit Mitten Kitchen

This mint frosting is seriously something out of my dream journal. Again, matcha is our source of green here, and the fact that it covers flourless fudgy brownies makes it even more craveable.
Green Goddess Hummus from Cookie and Kate

Looking for something a little healthier? This Green Goddess Hummus is for you! Herbs like parsley and tarragon are not only the source of that spectacular green color, but also for loads of freshness and flavor.
Roasted Asparagus Wheat Berry Salad with Arugula Pistachio Pesto from A Beautiful Plate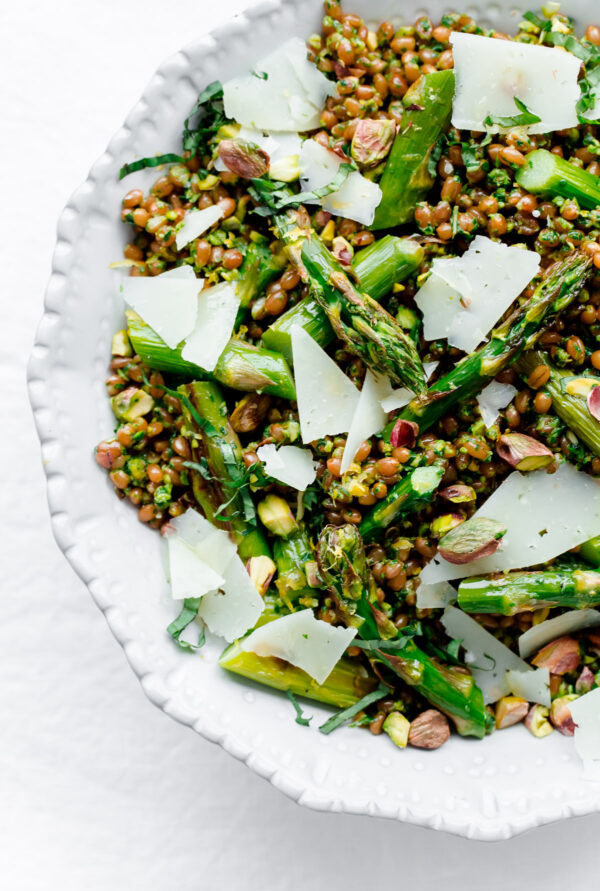 Pesto is one of my all-time favorite foods, so this Arugula Pistachio Pesto is right up my alley. Not only that, but that vibrant green roasted asparagus will add a fresh spring spin on this dish.
Sautéed Pea and Green Bean Salad with Mint and Basil from Rhubarbarians

You know a recipe is perfect for St. Patrick's Day if every single ingredient in said recipe is green. Mint, basil, green beans, peas – I can tell this recipe is going to taste as fresh and delicious as it looks.
Green Tea Coconut Ice Cream from Minimalist Baker
Care to end the day with something sweet? Matcha comes to the rescue again in this green tea ice cream. Not only that, but it's completely vegan and naturally sweetened! Talk about a very happy St. Patrick's Day.