Is there anything more comforting than soup? I don't think so. The soothing flavors, the multitude of vegetables and grains…it seriously doesn't get any better.
But, like most things, some are better for us than others. Skip the heavy cream, pass on the butter and bacon, and you'll have a warm and comforting meal, perfect for helping you get through winter. Here are some of our faves:
Roasted Cauliflower Soup with Coconut and Turmeric from A Beautiful Plate
How beautiful is that color?! Turmeric has become a bit of a buzzworthy ingredient as of late, and it's for good reason! Turmeric has some serious health benefits that will make you want to cook with it more often. And this soup is the perfect place to start.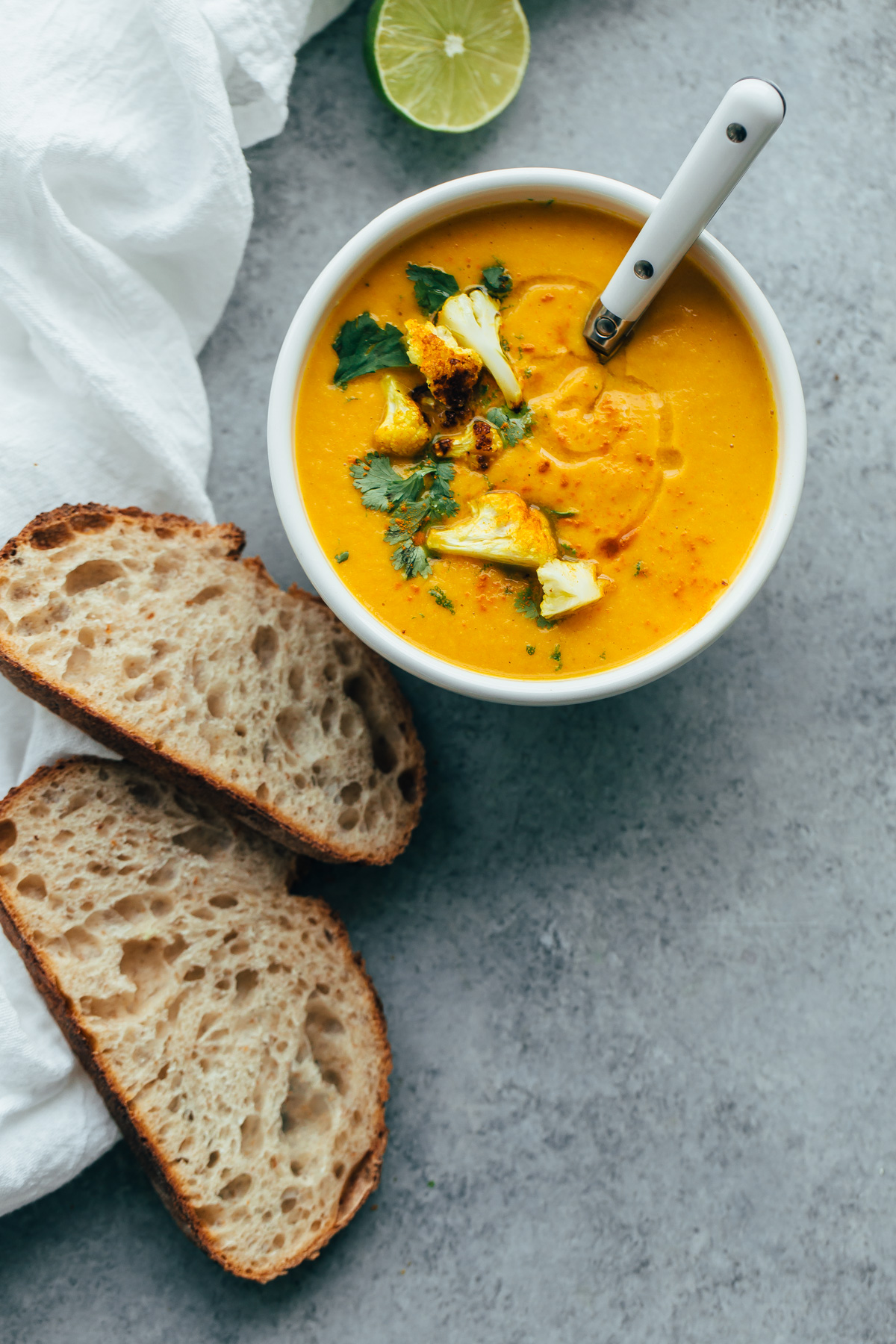 Asian Chicken Soup from How Sweet It Is
This recipe is on the lighter side in terms of traditional chicken soup recipes because of all of those veggies. In fact, the bulk of the recipe is made up of veggies like bok choy, carrots, onions, and mushrooms. Plus, the boneless, skinless chicken breast is a great lean protein option for this soup.
Spicy Vegetarian Black Bean Soup from Isabel Eats
I just love everything about this soup - it's super thick and creamy, and just made for piling on the healthy toppings. It's completely vegetarian, and made without cream or dairy. The best part? This recipe features some of the best warming Mexican spices like cumin, red pepper flakes, and oregano.
Slow Cooker Chicken Chili from Sally's Baking Addiction
Calling all chili lovers! Sally's chicken chili recipe couldn't be easier because it's made solely in a crockpot. This means that you can set it to cook while you're at work, and then be welcomed back to big ol' bowl of piping hot chicken chili after a long day. Pretty much the best thing ever, right? Sally even bulks up with recipe with the addition of beans and veggies like corn and bell pepper.
The Best Detox Crockpot Lentil Soup from Pinch of Yum
This recipe totally has "comfort food" written all over it. Lentils are one of my very favorite sources of vegetarian protein; they always fill me up, and they're always so warm and comforting. Plus, with over 10 cups of vegetables going into this soup, you know it'll make you feel like a superstar.